I moved to Bletchley 41 years ago (from London) in an open top lorry with just a treadle sewing machine and a table and two chairs on the back. Luckily no neighbours were about, as the first thing my 6 year old son did as we stopped outside our brand new two bedroom house, was to start throwing stones (picked up from the un-grassed verge).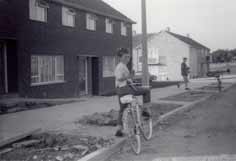 Having come from a furnished room in North London, (with a single gas ring in the fire place to cook on) our two bedroom house was a dream. A kitchen, bathroom, and separate toilet, dining room and even a garden with a shed! And in the kitchen was a gas copper to boil your washing (which came in very handy when I was to have two babies in 10 and a half months within a year of moving in).
Our rent was £2.15s.0d. a week, but because the house had been allocated to us from the council, two weeks previously we now owed over £7.0s.0d. rent. Luckily I had a job (which is how I was allocated the house in the first place), but although I earned £7.50p. a week, (as a shorthand typist) – pay day was 4 days away.
The only thing I knew about this part of the world was that Bletchley was near the place where the Great Train Robbery recently happened. (I was hoping that a few odd five pound notes would by flying around!)
Sitting in our new two bedroom house the first night there was a knock on the door. It was our next door but one neighbour who came to warn us that rats had been heard in the lofts of all four houses in our block! We were so pleased to have a new house that the rats didn't really bother us.
I walked to work the day after we moved in, over the fields across a railway bridge to the industrial estate at Denbigh. No buses down our road yet, but we heard there was going to be buses within a few weeks, and sure enough there was. The photographer from the Bletchley Gazette came to record the great day.
As we had moved in August the children were on holiday from school, I didn't have to think about a school for my son aged 7, but when I did I was amazed to find there was no school nearby, and I had to send him to a school (Holne Chase) nearly two miles away. A school was eventually built in our street, two hundred yards from our house, but too late for my son as he was then ready to go to Bletchley Grammar School.
My husband managed to get a job quite quickly but although that helped to solve our money problems, it meant my son had to come home from school to an empty house. In time we got friendly with our neighbours and one of them kindly offered to look after my son when he came home from school until I got home from work.
Well they say 'new house – new baby' and that's what happened to me! ( within a couple of months). ……. and I wasn't the only one pregnant, as within a year, the midwife went from me to half a dozen other mums up the street. (in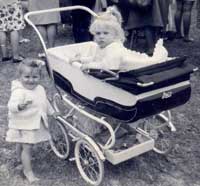 those days we all had our babies at home. However, I went one better and was pregnant again within a year! So the midwife was really busy with me!
The next two or three years are a complete blank – all I can remember was washing and boiling napkins (terry towelling ones – no disposable in those days), sleepless nights and pushing the pram to the shops and back every day.
After a couple of years, and with the help of a friend I managed to get a part time job – I did a morning shift and my friend did the afternoon shift and we looked after each others children.
No hospital in Milton Keynes at this time, so when my husband needed an operation, and I had to get to visit him in Stoke Mandeville hospital I had to ask a neighbour to take me there, as we had no car – neither did three quarters of the people in the street.
Luckily the school had been built and my two girls were able to walk there every day, plus buses were running down our street, and there was a bus stop about ten yards from our house. No Sainsburys or Tescos, just a couple of small supermarkets in Bletchley, and although we could get a bus to town, we preferred to push the children in their pushchairs with the carrier bags full of shopping hanging on the handles. We had one small cinema in Bletchley called the Studio, (which was demolished to make way for the Leisure Centre) and a cattle market opposite the Co-op.
Occasionally we would make a trip to Northampton to do our Christmas shopping – as the train fare was less than 25p return! Also a trip to London was less than 75p.
One of the most exciting times we had was when the Queen paid a visit to Bletchley in 1969, and Queensway was renamed after her visit.The Queen visited a school on the Saints Estate and also had a cup of tea in a council house.
A lot has changed in the past 40 years, but the most exciting change was the new shopping centre in Milton Keynes, and more recently the new theatre, which has encouraged thousands of visitors to Milton Keynes, as well as permanent residents moving into all the new houses that have been built.
This is an extract of a story that was written some years ago on one of our popular 'My Memories' IT Courses.