My first memories of the railways would be of going on holiday when we were kiddies with the whole family, down to the south coast. I didn't get really involved or interested in railways till we came to Bletchley, we came down in '48 so the only time we went on a train was when we went out for the day or on holiday.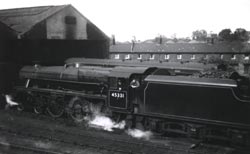 Ooh dear Bletchley station was a dark and dingy place because the trouble was everywhere was covered with soot that's the thing I seem to remember most was the fact things, you may not think so, but are a lot cleaner now than it was in those days. Everything you touched was black. It smelt of soot, particularly at Bletchley because of  the loco shed just outside the station there and there was always a continuous plume of smoke. It was very sooty.
Shortly after we got down here as a kids we used to go and we used to take numbers. We was up the bank there beyond the loco shed turntable and we was able to sit up there because the loco shed was a good place to pick up numbers, it would have been '49, '50 perhaps. It was not only numbers the locos had names, it was names as well. Sometimes  you only saw those that were running on this region and occasionally another because some loco had been moved, transferred and brought down this way perhaps wouldn't have a chance of seeing it on a regular basis. It was quite something.
I mean we used to go obviously up to London a lot, down to the east coast and the south coast there was Oxford and Cambridge and Bedford many trips some trips I miss especially Oxford being able to travel down there by train.
I started working on the railway in '55 I was 15. Forty-three years in Wolverton Works.
Well I first took an apprenticeship in sheet metal work, which involved making all manner of items which were used to build railway carriages. Because in those days when I first started they actually built new stock, that ceased in '64,'65. But during my apprenticeship we built all sorts of things… component parts that went towards building a vehicle.
I used to take the train every morning, the train always stopped to pick up people at Loughton. There was no station there, it was perhaps an official halt but the train always stopped and picked up these half a dozen or so people that lived in the village and that would be roughly where the main, central Milton Keynes is now around that area.
At Wolverton because Wolverton being on a sharp bend the train when it comes to a stop it's on the tilt and she quite accidentally got up out of her seat suddenly realised ooh I'm at Wolverton, jumped up opened the door and because she opened the wrong side. The door flew open and fortunately there was nothing coming through else it could have been quite nasty in fact she could have been flying out but she didn't.
Men used to think that they owned the train I think, the elderly men did when we was apprentices and used to travel backwards and forwards. These men used to be in same coach, in the same seats by the window or whatever it is but as apprentices we used to get up there early and grab the seat before they got there! They grumbled all the way for Bletchley to Wolverton because we'd sat in their seat as they put it. Never got hoisted out but they'd let you know that you were sitting in their seat but never would do anything physically to try to move you. We would vary it a bit. We wouldn't want to upset the same one every day.
I've got an old drawing at home of the layout where the station used to be at Wolverton. That's why at Wolverton Works we used to call it Station Shed because it was an area where the station used to be years ago when we worked there we called it Station Shed. Everybody knew where it was.
It was a great pity the way it got knocked down the way it did. It was always, rightly or wrongly it was always thought of as a listed or listed building and when there was some talk of doing away with it there was a bit of resistance put in but overnight they seemed to put a board up and it disappeared very quickly. A great pity because they had a lift there it was a hydraulic one it was run on sort of water, weird… I mean I never ever operated it. Which it must have been quite unique at the time. The lift itself was mainly used for getting parcels or whatever or heavy goods down onto the platform level if they were going to load it onto the train.
The way of getting from one platform to the other was going to the end of the platform, the sleepers were between the lines and you used to have to get someone to see you across. That would never be allowed now. Same as Wolverton station if you were in a wheelchair there's no way of getting from one platform to another. One platform and that's it, because there's only a footbridge. No way can you can get across, that's how it used to be at Bletchley, to the end of one platform and then across.
This is an extract of a story that was collected as part of the 'Where the Lines Meet' Project.