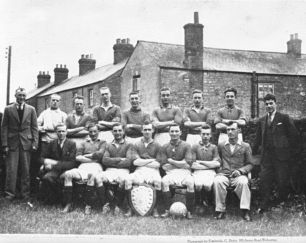 Funded by a 'Your Heritage' Lottery grant in 2007 this project collected personal testimonies, photographs and memorabilia to document the history of football in Milton Keynes over the last 100 years.  The primary source material collected was used to create an exhibition, book and digital stories.
A 'Down Memory Lane' event was held the MK Dons Stadium in September 2007 and people were encouraged to bring photographs, memorabilia, video, stories and memories. There were displays of archive material provided by Living Archive and other local football clubs.
People were encouraged to tell their football stories.  Forty of these stories were followed up with in depth interviews, they were transcribed and digitised to form an oral history archive.
The archive stories and photographs researched by the Living Archive volunteer team featured in the MK Dons football programmes throughout the season.
10 Digital stories based around 'what football means to me' were created to be shown on screens before matches. Click on the links below to see the films
Panels displaying information collected (stories and photos) were designed and sited in public areas of the MK Dons Stadium. Digital versions can be downloaded and viewed on the link below.
Follow this link to purchase our book about the history of football in MK: https://www.livingarchive.org.uk/content/online-shop/books/players-passion-and-pitches