Trevor-Freemasonry in Milton Keynes
Freemasonry in Milton Keynes
            When Milton Keynes was first planned and developed in the 1960s, Freemasonry was already well established in the immediate area of the new city and had been for many years before. Not surprising then, even to the present day, there has not been the need to build a new Masonic Hall in the city centre. Nevertheless, with an ever increasing local population, freemasonry has continued to thrive and grow in membership. There are now a total of 32 Craft Lodges and Royal Arch Chapters, together with other recognised Masonic Orders, such as Mark Lodges, Royal Ark Mariners Lodges, Rose Croix, Knights Templar etc. that regularly meet within the boundaries of Milton Keynes.
There are three Masonic Centres within Milton Keynes. They are situated in Bletchley, Stony Stratford and Wolverton, catering for the active needs of the brotherhood. There are several thousand freemasons living in and around Milton Keynes. They gather regularly at their Lodges, in harmony and fellowship, to practice and perform Masonic ritual. They usually enjoy a sumptuous meal together afterwards. All freemasons give regularly of their own money to provide funds for the Freemason's Grand Charity, which is dedicated to helping people in need, and has donated over £120 million since 1981. Each year the Grand Charity donates some millions of pounds to National worthy causes and public services; Hospices, RNLI, medical research projects, the Ambulance Service, and also gives generously to disaster relief worldwide, for example. The list is very long.
Besides giving to the Grand Charity, brethren of every Lodge subscribe to alms collections within their Lodge, besides supporting other fund raising activities organised by the Lodge. To this end a 'Master's Fund' is set up in each Lodge and the Master of his Lodge will decide which local needy causes to support with grants out of the annual fund. Money is not the only help that freemasons provide.  They also get involved from time to time in projects within their local community, to improve the well being of their fellow citizens.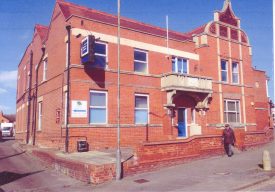 Bletchley Masonic Centre
Since 1971, Masonic meetings have been held in a building once occupied by Bletchley Urban District Council. This came about after the Milton Keynes Development Corporation offered to exchange the UDC building for the site owned by Bletchley Freemasons, situated in Fenny Stratford, adjoining the old A5, which was home to the first Bletchley Masonic Temple consecrated in 1900.
The new building, at 263 Queensway, Bletchley, has a large Lodge room on the upper floor.  A separate building houses a Dining Hall and Bar with a car park. these are also available for public functions. There are facilities for rehearsals and committee meetings within the main building.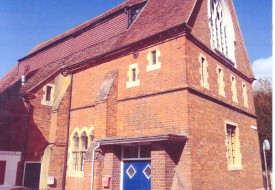 Stony Stratford Masonic Centre
Masonic meetings are held in the St Giles Parish Room in New Street, Stony Stratford. This building was purchased for the exclusive use of freemasons in 1965, after having previously rented it from St Giles Parish Church. The Masonic Temple is housed on the whole of the upper floor, approached from one end by an interesting stone spiral staircase and a normal wide staircase from the other end, which also incorporates a stair lift. The lower floor of the building contains a Dining Room and Bar, a kitchen, changing room and toilets. The first Lodge to meet here was Watling Street Lodge, number 1639, which was consecrated in 1876 at the Cock Hotel in Stony Stratford High Street.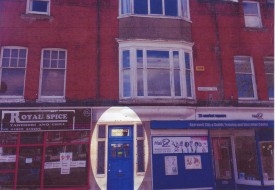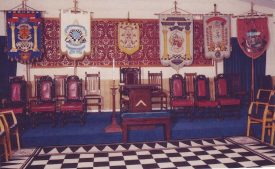 Wolverton Masonic Hall
Wolverton Masonic Hall
Since 1936 Freemasons used to meet at the Craufurd Arms Hotel in Stratford Road, Wolverton until the Hotel changed hands. In 1953 several brethren combined to purchase the house at 22 The Square, Wolverton. The purchase included an adjoining shop, still operating today and which provided an income to support the development of a Masonic Hall. The building covers three floors.  The lower floor contains the Masonic Temple, which is housed within a purpose built rear extension to the main house. The lower floor also contains a Lodge ante-room, a changing room and toilets. There are stairs and also a lift to the second floor which contains the Dining Room, a Bar and spacious kitchen. On the third floor is a committee room and very interesting museum.