The Changing Face of Wolverton Sports Club Pavilion by Ian Johnson
The Changing Face of Wolverton Sports Club Pavilion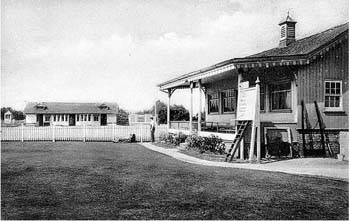 1901 to 1972
Wolverton Town Cricket Club was formed in 1893. The first game was played on the 28th of April 1893 on a big field near The Gables. The club lost their pitch, which was called 'The Big Field', in 1899 as it was taken away from them for building purposes. The Club spent the following year playing all their games away and during this time managed to secure a new pitch at the current site in Osborne Street thanks to club president Mr C A Park, who was also Superintendent of the Railway works.
A new pavilion was built with a raised viewing area and two changing rooms inside. The new pitch was officially opened on the 18th May 1901 with a game between the first and second teams, with the club president bowling the first ball. Wolverton Tennis club formed in 1903 and they shared the pavilion, with the tennis courts being on the opposite side of the building to the cricket pitch. During the years between the wars there were five grass courts. These were replaced in the 60's with new hard courts with the old grass being sold off to houses in Wolverton making a sum of 77 pounds.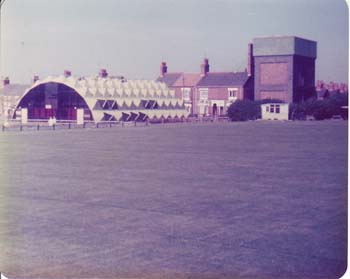 1972 to 1980
After seventy years of use, the original pavilion was rotting away at the foundations so in 1972 the club approached the Milton Keynes development Corporation for help. The Corporation offered them architect Pierre Botschi who designed them a new building at a cost of £35,000. The design was mostly made of fibre glass and its advantages were that it was lightweight but structurally strong and being relatively cheap to construct. The downside of the building was its very high roof meant it was difficult to heat which lead to large heating bills and also there was no entrance on the side of the cricket pitch. The new building was original and unusual in design with comments like 'A Nissan hut with warts', but it was most commonly known as The Pineapple.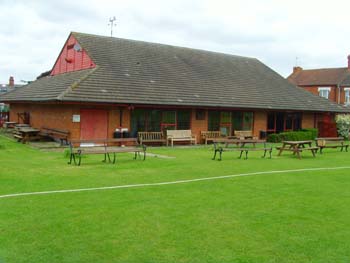 1980 to Present
The Development Corporation agreed to replace The Pineapple and the shell was sold to a chicken farm near Yeovil in Somerset in 1980. The existing changing rooms were kept and a new brick structure was built around them. This new building was officially opened on the 28th March 1981 by Lord Campbell of Eskan.
New tarmac tennis courts were laid in the 80's and again in 2003 and floodlights were installed on the top courts in 1991.