About 1954 I was working in Blackpool, I was an instructor in the Post Office Training School, after the war of course, and they needed an instructor in Bletchley Park. I'd just broken my engagement to a gentleman who liked fishing and I was fed up of taking second place to a fish, so I decided that I would come. The Officer in Charge said "Would you like to go" and I was all for adventure so I got on the train.
The train stopped at Warrington and there was an American Forces Camp at Warrington, well my carriage was empty, but suddenly it filled up with American Soldiers and they were very nice, they shared their sweets and chocolates with me, and when we got to Bletchley, they were going on to London, they deposited me on the platform with all me luggage where the officer in charge of the training school at Bletchley Park, met me. I was introduced to Bletchley Park and of course a lot more interesting things had gone on at Bletchley Park before then, but now it had been taken over by various Government Departments.
I had been told by various people in the North of England that it was just a railway junction, and really it looked like a railway junction, I can remember there was a wooden bridge going over, and I can remember thinking the steps were a wee bit precarious, you know.
I used to hear stories about Bletchley Station saying that during the war, that there was a sort of underground alley way from the station to Bletchley Park underground and it went from the end of the platform, there was an air raid shelter on the platform and when Churchill used to come to Bletchley Park he used to walk up this platform and it looked as if he was going into the air raid shelter but in fact there was an underground passage to Bletchley Park. But whether that's right or not I don't know, but those were rumours I heard.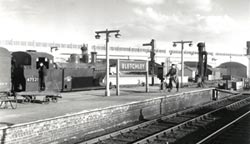 Well, I thought that Bletchley, with all due respect to it, was the dullest place I had ever been, when I came to Bletchley I asked "Is it much further to Bletchley?" and she said "You've just come through it!"
There was the market of course on Thursday that was the highlight of the week was the market. They ran buses to various villages, and I think to Buckingham you could go by train on a Tuesday, but you couldn't get back til Thursday!
This is an extract of a story that was collected as part of the 'Where the Lines Meet' Project.