That was the 31st of December 1956 was the time I joined the railway and I done me five years apprenticeship so I finished in '62; I actually came out as a fitter.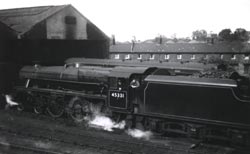 The steam obviously is very dirty doesn't matter what you touch, it's very cold in the winter. Whereas the diesel was all a very clean environment and it was from ash pans to a brand new diesel shed. You know there was a big comparison to put between the two, there was no guessing where everybody wanted to get to!
This electrician friend of mine, his father was an area rolling stock engineer for this line, The London Midland and that's when he said, 'Look they are opening a new depot up there.' And he said, 'If you go through to the Westminster council, put your name on their list transfer out here to Bletchley and then once you got your job out here, they can relocate you.' So that's what happened, I came to Bletchley and I was staying at the Railway Hostel at Little Brickhill, the railways had quite a lot of hostels around and it was mainly for drivers and guards that were working and stopped overnight. but that hostel up there I was up there for nearly twelve months.
We was given a railway house at New Bradwell, that was one of the last, but it did say make sure you that you look at these houses before you say that you'll have it, so anyway we was desperate, so I said we'll take it, it was about £1 2s 6d a week the rent was. So we came got this house, it was in a pretty dire state I must admit, in Spencer Street, it was and I done what I could and we were lucky because we had to go to Wembley to get the wallpaper and the paint, the railway gave you all this, but we had to go to Wembley to get it. So I got a wooden ladder on me shoulder on the train I went up to Wembley, found my way, all these rolls of wallpaper and some paint, come all the way back. Anyway I done what I could.
Anyhow on this particular Saturday afternoon, I think she was about seven months pregnant then. So I said come on this house, I'd already described it to her as the pits. I said, 'Now you're not going to expect anything, there's no toilet inside it's down the bottom of the garden, and the garden, I hadn't been in the garden.' So I said, 'Look it's the pits, but it's comfortable and it is clean inside.' So we got the train into Bletchley, the train didn't go any further than Bletchley, you had to get the old steam then from em Bletchley up to Northampton I think or Rugby wherever it used to go to. We had to change at Bletchley then to Wolverton, we got this change then into Wolverton, Saturday afternoon I'll never forget it a nice Saturday afternoon and there I all proud walking up to this house. There's no front gardens in Spencer Street all the doors come straight on the street and she comes from Ireland and she was used to being in a seaside village she was. She looked and she said, 'I can't live here!' I said, 'What do you mean you can't live here? I spent the last few months doing it up!' So 'Eerrrrrr I can't live here!' So now we were stuck there were no trains running to back to Bletchley because there was no trains running for about two or three hours. But fortunately as we were walking back I met someone I used to work with who took us in for a couple of hours so we could get back. But we never did move in, never did so eh, I paid all those £1 2s and 6d for nothing! Ha, ha! Yeah, yeah, I'll never forget that. I mean there were plenty of places up there and people had them quite nice you know, but yeah, she just couldn't see that little bit further, ha, ha.
As soon as my son was born, they gave us a maisonette that was in Middlesex Drive. We was in there for a couple of years and so we've been in Bletchley ever since.
This is an extract of a story that was collected as part of the 'Where the Lines Meet' Project.