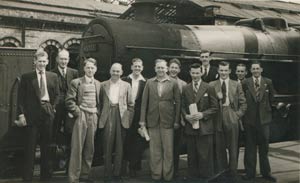 My brother in law… my sister married a railwayman, he was a signalman and he said why don't you try and get a job on the railway. So I tried to get on at Northampton and they said there was no vacancies but there was at Bletchley. They lived at Leighton Buzzard so they said, 'Why don't you come and live with us?
So I went and lived at Leighton Buzzard in 1935 and used to bike to Bletchley. There was four of us started, well three of us all started the same day and another one just after. They all lived in Leighton Buzzard so we used to bike every day, Leighton Buzzard to Bletchley.
For the interview I travelled to London. Frightened to death I was never been to London before in me life on the train. Then I didn't know if I was going to get the job so I asked if I'd passed he said 'Yes'. Well you had to get a medical, everything had to be perfect, especially your eyesight. I mean you to go for your eyesight every… well I don't know, every five years I think after you're fifty. That was the most important thing of the lot on the railway, your eyesight. A medical and everything, they sent for me in May, I couldn't start on the Monday because it was Jubilee Day. So my first start on the railway was a day on, I started on the Tuesday.
My brother i n law, well he lived at Leighton Buzzard but he got promotion and he got what they called a relief signalman, he knew all the boxes. You see some of them signalmen only knew the one box they worked in but he knew them all. He never went in the same box every week he went where there was a vacancy, somebody on holiday or all that you see.
As I say I was lucky I only did about two years, it must have been… 1935 I started… Because the war done us a good turn you see, there was so much… because Bletchley was only a small depot, during the war you see because there were so many… that was because of Oxford and Cambridge you see, east to west. There was troop trains there was ammunition trains, you see. It made a lot of work at Bletchley. It took at least a dozen firemen up to drivers and cleaners up to firemen. I was one of them as went from cleaning to fireman. I was lucky in that way. I earned more money than a lot of them because I got up so quick. But as regards getting a regular drivers job I done two to three years driving, what I call a part fireman, eligible for driving, but I never got a regular drivers job till I'd been on about nineteen years. I was getting the money you see.
This is an extract of a story that was collected as part of the 'Where the Lines Meet' Project.