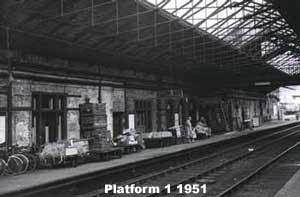 I joined the railway when I was fifteen, having left school at fourteen of course.
I joined the railway as what they call a Junior Porter and my job was to, at that time to look after the internal mail which came in on the trains of course. And consisted of things like invoices and goods invoices and they had a little office place at the end of number four platform. We had to sort the correspondence and the various boxes and then we took them round and put them on the various trains for their destination. That was my first job. I was always told it was a secure kind of job if you looked after yourself and behaved yourself you could have a job for life. I rather fancied the railway. Just opposite where I lived at that time there was a railway inspector named, Inspector Bugg, with two gg's. Because we were friendly with the family he put me on the path to joining the railway.
My Dad was a milkman, he had his own milk business in Bletchley and also he bought the shop opposite the Belles public house, the corner shop there and we moved from Shenley Brook to there. As regards the milk he used to get that from the farmer at Shenley Brook End and he used to bottle it up. Sometimes in the first place he used to take a bucket with a small half-pint measure and used to dish it out from a bucket. Then he progressed to bottles.
I carried on there dealing with letters and whatnot and then a job became vacant in the telegraph office, that was on number eight platform. The job was what they called Train Reporter. You had a line of telephones all connected up to the various signal boxes up and down the line. Tring, Watford, Rugby, Blisworth and all trains were numbered and you had a number punched out on the telephone saying train number forty-five six fifteen Blisworth you know. Then that gave the chap in the control room adjacent that gave him the position of the train and how fast it was going and the position of it. He could then plot the route. There might have been something further up the line that was going slower you could divert that train by doing the contact with the signal boxes.
After there as I was getting older of course the time came I was no longer classed as a junior so they sent me to Winslow Station along the Oxford Bletchley line as a porter. I stayed there one week and already having had a medical I was called up into the army. So that was when I left the railway temporarily and I stayed, when I come out of the navy I went back on the railway but there was a shortage of Good Guards so I was trained as a Goods Guard. Unfortunately the job bored me to tears, I just couldn't stand driving around in a Guards van all day long, on my own, past scenery I'd seen a hundred times so I'm afraid I left the railway then.
I then wanted to get back on the railway and I was fortunate because my brother in law worked on the railway and he said they'd got vacancies at the shed. That was the shed in Water Eaton Road, there's a shed that had four tracks and would hold about four carriages. He said it would be a cleaning job, cleaning carriages. I turned me nose up a bit but he said it would be a chance to get up a bit, do other jobs as long as you get your foot in the door so I did. I went cleaning, I didn't like that very much so I then was accepted for training as an examiner. That was a job whereby, it was a music hall joke type of job where a bloke carries a long hammer and taps the wheels. That's only one part of it you know but it was also shift work, which I didn't take to very kindly I liked a day job. Anyway I did carry on with that and then one of the chaps in the sheds retired and his job was looking after all the electrical equipment on the carriages which were steam fuelled at that time. That was dynamos, all the lighting and that and I applied for that and got it.
My job was the maintenance of those. Of course I had to do the heating part of it as well. So I had to do the heating, lighting and everything on the railcars. Also around that time of course electrification was coming in and I didn't have much to do with the electrical vehicles. They were high voltage and on a railcar it was low voltage so it was no problem. So I carried on until they built this new depot down at… on the industrial estate and everything moved down there. All the electric vehicles, the diesel railcars, diesel electric locomotives and all that all went down there. I stayed there right until I retired. In the meantime they gave me a job in the workshop which was repairing heating equipment and that's it.
One, a great friend of mine in fact used to have a business, a bakery business running from Newton Longville where he lived and he came on the railway because his business was being overtaken by the packed loaves and all that. He came on the railway and he trained as an examiner and one of his was at Tring Yard where they had some Goods vehicles and they had to be examined, they were old. It was at the time that the electrification was taking place, twenty-four thousand volt overhead equipment and for some reason he climbed onto one of the wagons, a box wagon and accidentally touched the overhead wire. Fell from the vehicle and got killed. A family man he had four children. Before that one of my colleagues at the shed he was one of those overhead people they used to maintain the overhead equipment and he climbed onto the gantry just outside the shed and probably not realising that the power hadn't been switched off. Touched the wire and it threw him down, didn't kill him instantly, didn't kill him at all but it was the fall from the gantry that did the damage. Although he did get burns it wasn't all that serious the injury sustained when he fell put him in a wheelchair for the rest of his life.
Early in the war when the blackout was in place and the train standing in number three platform, I think it was having a vehicle attached to the rear and an express from Euston must have passed signals at danger and crashed into the back at high speed. It killed several people. The blackout was disregarded and all the lights were switched on to enable them to rescue injured people. They got the line cleared quite quickly.
This is an extract of a story that was collected as part of the 'Where the Lines Meet' Project.