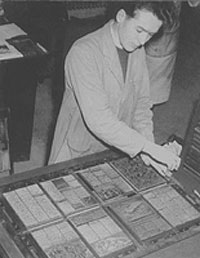 On January 2, 1956, my career in the printing industry started at Bletchley Printers – if only I had a crystal ball and could look into the future, all would have been revealed! My first week completed and I must have been so enthralled I turned up for work on Saturday, only to be sent home again after being told that I wasn't producing enough work to warrant working overtime! After my trial period I signed my Indentures, these were official documents witnessed by three people, my father being one of them. This meant you were bound to the firm for the duration of your apprenticeship (which was six years). At that time a lot of my friends took jobs with higher salaries, which I have to say made my £2 6s 6d look rather small, however, little did I realize at the time that my 'small beginnings' would give me a good future in latter years! Talking about my first salary makes me realize how inflation has changed our existence, firstly I had a girlfriend and we used to go to the cinema, coupled with that I used to give my Mum something for my keep, all out of 46s 6d!
Being the youngest and newest recruit made me the victim of all the 'leg pulling' and tricks you could imagine. My innocence and naiveté did little to prepare me adequately for my new career. I was sent out on various escapades, my first I vividly remember being for a tin of 'elbow grease' at the local shop. The printing trade was renowned for its 'initiation' ceremonies, the threat of what could happen to you was really daunting, and other practices and traditions in contrast were not too bad. From tea-boy to running errands for doughnuts and lardy-cakes and on the odd occasion placing a bet at the local bookie was a happy time, my gradual involvement in being an apprentice compositor started to take shape. For the uninitiated the job of a compositor was designing and setting up the lead type into pages for the printing process, this involved great accuracy and caused great consternation from the older journeymen compositors if you tried to take short cuts. The Overseer of the department at that time was a middle-aged man, whom I have to say really put the 'frighteners' on me. His standards were so high that I suppose you would have called him pedantic. Being a raw recruit made you all 'fingers and thumbs', my attempts to do my best were all in vain, many a day passed and I went home despondent! However, as the years passed by I began to appreciate why he had been like that. Funnily enough, later in my career it was me who was telling apprentices to 'concentrate and make a decent job'!

The company also had a flourishing Sports and Social Club. Many a good wayzgoose (an annual summer dinner or outing held by a printing house for its employees) was enjoyed, as was tennis, table tennis and cricket. The club ran quite a few teams in the local table tennis league, often teams from the company would play against each other and this brought in some 'good-natured' banter and rivalry!
This is an extract of a story that was written some years ago on one of our popular 'My Memories' IT Courses.