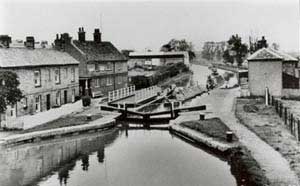 My name is Colin Scott, I was born on the 28th March 1936 and lived with my parents in Manor Road, Fenny Stratford until they were divorced in 1939.
Although my father was in a reserved occupation he was transferred to South
Bucks at the start of the war. As a result I went to live with my Aunt who had
recently been widowed, my Uncle had died whilst on watch with the A.F.S. at the Fire Station in Fenny Stratford.
My Aunt, who acted as my guardian, was in many ways a remarkable lady. I did
not realise at the time, of course, but she had a lot to cope with, having just
lost her husband. She not only had to look after her own son but brought me up
as well. In addition my other Aunt was living with us, as both my Grandparents
had died within a day of each other in 1940.
My Grandfather being a Lock Keeper at Fenny Stratford since 1900, had lived in a
Lock Keepers tied cottage for about forty years. However with the death of both
my grandparents, my Aunt who was still living with them had to find somewhere
else to live.
As I was still a toddler, I was completely unaware of such problems and settled
in happily enough, I had a friend next door and other playmates in the street.
The small terraced house we lived in was a typical modest (poor) two up two
down built in the late 1800's, with an outside loo at the top of the garden and
a Friday night tin bath hanging in the barn. The garden was very small, but
never the less my Uncle had dug an air raid shelter into half of it. The
neighbours put finishing touches to it after he died. It was never used as a
shelter, but became a place to play on or dump things and later to house my
bantams
All children those days attended the Secondary Modern School in Bletchley Road,
now called Queensway, I remember my first day at school very clearly, Mrs.
Holdom my teacher explained why bands of sticky paper criss crossed all the
windows and what she wanted us to do if the siren sounded. It was 1941 and the
German Bombers were a very real threat. In reality, Bletchley was never
touched, except for one occasion when a bomber returning from a raid on Coventry,
had a go at a train just south of the railway station.
Not with standing this, the fact that we were at war governed everything we did
or could not do. There was rationing, blackouts and all kinds of shortages.
People of military age went away and others, like evacuees, service men and
women and other workers came into the town, many were billeted with the locals.
Two lodged with Mrs. Wilkinson in Denmark Street, I got to know them very well and we became good friends. Both were civilians working at Bletchley Park, but no one knew what they did or what was going on until years after the war ended. I knew they were clever blokes because they helped me with my school work especially sums. Years later in the late seventies Ernie came back to Bletchley, possibly for a last look around, for now he was a very old man. He made a point of meeting me and we had a good chat. He was now able to tell me what he did at Bletchley Park, he was a mathematician!
For most children, especially the boys, the War Years were exciting times.
Bletchley was surrounded by operational airfields and the skies were full of
aircraft of all types. We could identify every one, even by the sounds they
made. It was an awesome sight on a summers evening watching the heavy bombers
gain height and assembling into formation before flying off. The noise from all
those engines made the sash windows and cups and saucers rattle.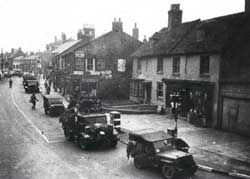 The Army came too, I can remember there was an armoured car, several bren gun carriers, all the support vehicles and scores of soldiers in Aylesbury Street.
They were billeted in the Baptist Hall, the cook house was in the yard behind The Malsters Public House. They stayed for a couple of days whilst on exercise locally. I pestered them relentlessly to have a go on everything I could lay my hands on, by the time they left I was well versed in cocking a machine gun, changing magazines, I had held a thunder flash and even been inside an armoured car, moved the turret and made the gun go up and down and I loved every minute of it.
At home I helped out with some of the chores, often reluctantly, like carefully
taking out the ashes and bringing in the coal and kindling. Having no
refrigerators in those days, my Aunt had to shop almost every day. I also ran
errands for her, mostly to see where the queues were and for what. One of my
other regular tasks was boiling potato peelings and other scraps in an old
saucepan, this was then mixed with a handful of mash and fed to my bantams-it
smelt awful. Lots of people kept a few hens or fattened cockerels to eke out
the rations. Complaints about noisy crowing was usually settled by a gift of a
few eggs. But Horace, my little bantam cock had to go in the end, he was beyond
a bribe.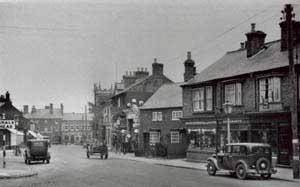 However, when I look back and try and assess my early years, I am bound to say, for me, they were happy times and I did not do too badly. With the benefit of hindsight and not trying to compare things with today's environment, I am amazed as to how well people in the war coped. They all seem to chip in and help each other, family problems were dealt with by the family. The only money most people had was next weeks wages, how my Aunt managed on little more than her widow's pension of ten shillings a week (50p) is beyond my comprehension.
Still, I am glad I was born no later than I was, there was a certain quality of
life then despite the hardships, that is not present today, and I should hate
to be starting out again in today's world.
This is an extract of a story that was written some years ago on one of our popular 'My Memories' IT Courses.