Park Avenue, a Story- Becky
PARK AVENUE NEWPORT PAGNELL , A Personal Perspective.
I remember driving past Park Avenue on several occasions , admiring the pleasant tree lined avenue and thinking it must be a place for my family and I to live. Eventually we did move there from Wolverton with our two young daughters. The schools in Wolverton were not what they are now and we wanted a bigger garden. Our daughters were rather noisy (and still are) which alarmingly highlighted to us within days of our move, that the new house  lacked the solidness of the Victorian terrace we'd left behind.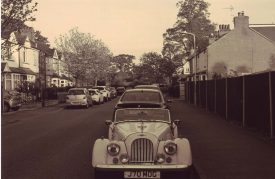 Park Avenue Is sited on part of the land that had been known as The Lodge, sold in 1912 at auction for around £1550 .Owed by the Maul family since 1840, and later sold by the Coales, who had used the place as a country retreat.    It  comprised  22 and a half acres of land including The Lodge country residence ,a miniature park, after which the road was named, buildings and a small farm.
The railway had  arrived in Newport Pagnell in 1867, after several aborted attempts .Park Avenue is in close proximity to where the railway line, now the railway walk is. Houses on my side of the street were allegedly  built to house railway workers .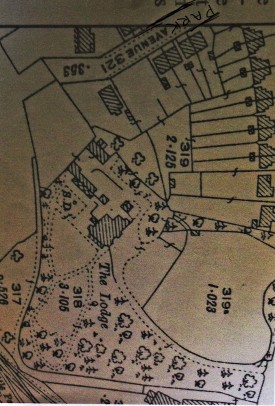 Construction of the houses on our street started soon after the purchase of the land, just before the outbreak of the First World War ; and as the men left to go and fight the war building work stopped. The ground floor of mine and my neighbor's houses are of a higher specification, with more architectural details than the first floor which was completed during the post war austerity of 1919!
The end of Park Avenue adjoins the railway walk allotments.  My husband had an allotment for a time, he got chatting to an elderly allotment owner one day,a local who told him that our house had been the local 'house of ill repute' in days gone by . The story he told was that two sisters ,prostitutes,and worked in our house , eventually saving enough money to achieve their dream of buying a house in Spain where they spent their retirement.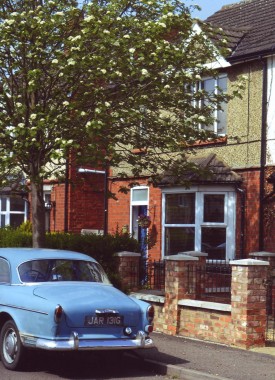 I mentioned earlier the trees that had first attracted us to the road. Sadly, even since we have lived here several have fallen foul of disease, planning regulations or health and safety. So the street is, tragically, less tree lined than it once was. I hope the remaining trees will survive many more years.