Dudley James- Great Linford, A walk in the Park
Great Linford
A walk in Great Linford
Start Point
The car park is next to the canal bridge at the end of Willen Lane, off Marsh Drive, here on the right you will find the brick kilns.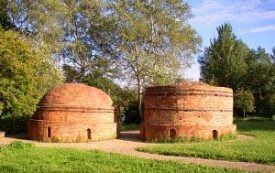 The kilns were in production in the 1800s supplying building bricks for the local villages. You will be able to see the remains of 2 kilns and 2 ponds where they dug for clay.
To begin the walk, go back to the car park and take the path with the Grand Union Canal on your right.
It's a good redway path that takes you straight on past a  new bridge over the canal, then past paddocks and a small copse, and then comes a sports playing field on the left.  Further on there is a children's playground and another bridge over the canal.  Still following a small path with the canal on your right, you will walk past more paddocks on the right with a bridle path on the left. Arriving at Marsh Lane, here you will need to be careful, to continue you bare right across the road to find a small lane leading to a pair of gates.  This lane leads to Linford Manor Park; go through the gates and follow the lane into the park.  Linford Manor is on your left, walking past a small wall you will see 2 small lakes on the right.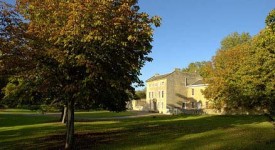 The Manor was built in 1678 and is still privately owned, the ponds are part of a set of 4, the 3rd was destroyed in the making of the canal the 4th is on the other side of the canal hidden in woodland and is derelict   You now continue the walk past the almshouses on the left, these were built along with the Manor by Sir William Pritchard, Lord Mayor of London, behind the almshouses is the Milton Keynes Arts Centre. Next on the left is St Andrews church, continuing on the path past a stone circle you will come to a bridge, this was a railway line between Newport Pagnell and Wolverton and is now called the Railway Path. Walk under the bridge, after about 30 yards on the left there is a grass path into an open grassland area containing 2 small lakes and the remnants of a limestone quarry.  This is called Stonepit Fields. The lakes were dug to take rain water from the new estate opposite.  There are grass trails all around the site, at the top is a car park off Newport road.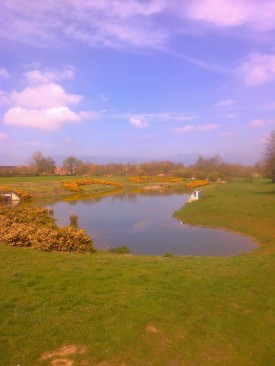 This is the end of the walk, if you need to return to Willen road car park and do not want to return the way you came, there is a tow path on the other side of the canal.  To get to it you will need to cross the railway path bridge and go down some steps just on the right.  The tow path takes you to the bridge at the Kilns and the car park.
NB.   The Great Linford Park is owned and maintained by the Parks Trust, any enquiries please go to Theparkstrust.com or phone 01908 23360