On Friday 15th June at 6.30pm, a commemoration will be held at the Milton Keynes Rose in Campbell Park to remember Rifleman Albert French. The Milton Keynes Rose is an artist designed civic space that gives residents and visitors the opportunity to discover stories of our city's rich cultural heritage, through a calendar of dates engraved onto pillars and supported by the website www.miltonkeynesrose.org.uk.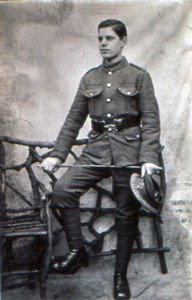 Albert French was a resident of Wolverton and in 1915 he joined up to "do his bit for King and Country". Albert was killed in action on the 15th June 1916 a week before his 17th birthday.
In the months after enlisting, Albert wrote home to his family telling them about life at his training camp and later at the front. An archive of his letters survives, plucked from the obscurity of a house clearance by Roger Kitchen on behalf of Living Archive. Transcripts of these letters and a number of photographs can be viewed in our online catalogue.
The story of Albert's life and untimely death will be commemorated on 15th June in a short event to which everybody is welcome. It will include letters written by students at MK Academy inspired by Albert's letters and traditional and original songs from and about the First World War, almost one hundred years since the end of World War One and on the brink of the hundred days leading up to the Armistice.