Out Of The Mud at Discover Milton Keynes
February 8, 2019 9:00 AM - March 7, 2019 6:00 PM
at Discover Milton Keynes, Central Milton Keynes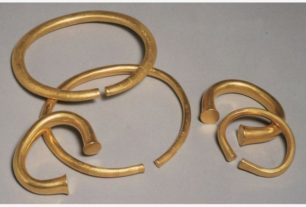 If you would like to find out more about the archaeology of MK, our latest exhibition at Discover Milton Keynes, Out Of The Mud, is for you!
Our town has a rich archaeological history dating back to the neolithic period – and far beyond. Learn about the excavation of the Caledcotte icthyosaur and then see it for real (it's sited in the Central Library). Marvel at the story of the summer day in 2000 when two local metal detectorists digging in Monkston found the MK Hoard of golden torcs and bracelets, now held in the British Museum. Find out about the excavation on the site of the old railway cottages where the Secret Garden now stands in Wolverton – and much more!
The exhibition is FREE to enter.
Runs from 8th February to 7th March (excluding Sundays).
Please check the Central Library's opening hours as times may vary: https://www.milton-keynes.gov.uk/libraries/about-libraries/library-opening-hours#CMK